Living Room
Please click here if you do not see the Contents bar on the left side of this page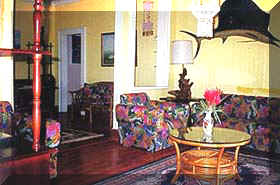 The natural decor of cane, wicker and upholstered furniture compliment the lush forested landscape that surround Santa Maria. Double doors open up into the living room which creates a delightful tradewind breeze through out the villa. Along with the breeze, ceiling fans in every room keep temperatures pleasant year round.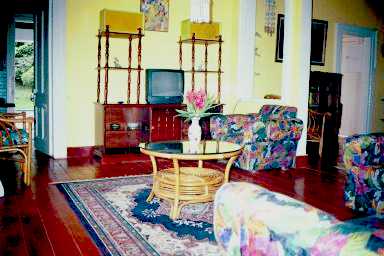 The interior of the villa has a natural decor with Wicker, Cane, Cypress, Mahogany and upholstered furniture. Our staff provides fresh cut flowers in almost every room. Dozens of species of flowering plants abound at the villa. Plants such as Bougainvillea, Ginger, Bird of Paradise, Croton and Night Jasmine which permeates the air surrounding the villa with a perfume odor in the nighttime hours.


---

Legal Notice
Last modified: 10/14/2018 12:27 -0400
Copyright ©

1998-2018

BRET A. BENNETT. All rights reserved.