Around the Villa
Please click here if you do not see the Contents bar on the left side of this page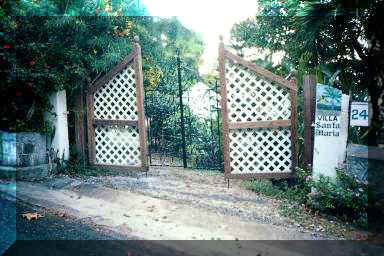 To the west side of "Breezy Hill", you can walk down the hill to "Cap & Olive's", our local seaside bar that serves daily jerk pork and chicken, a Jamaican favorite. Up the road is the site of "Firefly Cultural Museum". Situated 1,500 feet above the coastline, was once home of the famous playwright Noel Coward, who entertained many Hollywood movie stars and foreign diplomats.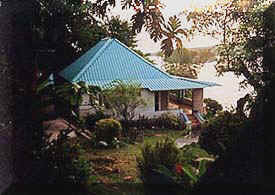 Tour the home and sprawling estate and admire old style Jamaican architecture and beautiful maintained gardens. On Sunday local plays are performed in a large outdoor amphitheater carved into the mountain side overlooking the ocean.


Villa Santa Maria and Local Coastline.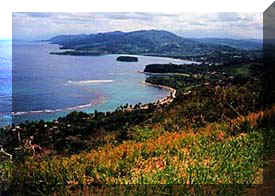 Travel down the road and you pass "James Bond Beach", a beautiful private beach located in "Oracabessa". The next town is "Ocho Rios", the cruise ship destination with all the tourist rewards!.
This city has world class duty free shopping, restaurants, nightclubs, golf, water sports and the famous "Dunns river Falls". Ocho Rios to the west and Port Antonio to the east, many activities are commonplace between these towns. Many waterfalls, caves and private lagoons dot the landscape of this mountainous north coast region.
---

Legal Notice
Last modified: 10/14/2018 12:27 -0400
Copyright ©

1998-2018

BRET A. BENNETT. All rights reserved.